Uncivilized: The best of Green Anarchy Magazine
From 2001 until 2008 the Eugene Oregon collective that produced Green Anarchy magazine created the most exciting refresh of one of the oldest kinds of Anarchism, Green Anarchism. Instead of geography, ecology, & windmills Green Anarchy magazine presented anthropology, action, and crazed theory against civilization.
Uncivilized is this story and more. It collects the uncompromising attack against civilization, technology, the Left that GA provided shaped into a weapon for the next generation of anti-civilization anarchists.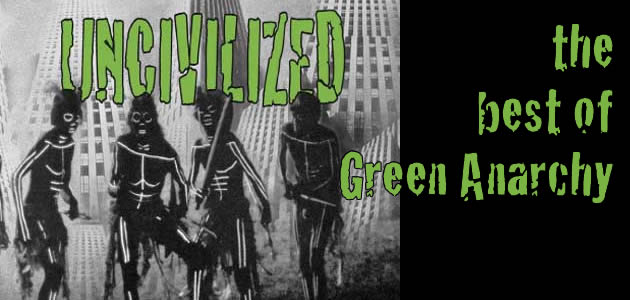 In this vein we announce the publishing of Uncivilized: The best of Green Anarchy Magazine on the new Green Anarchy imprint of LBC Books. You can find the book here.
In addition to publishing the book we have collaborated with Anarchy Planet to make sure that the PDFs of Green Anarchy magazine will never dissappear. Every issue (#6-#25) of Green Anarchy can be found at http://greenanarchy.anarchyplanet.org.
You can also read one of the three introductions to Uncivilized by John Zerzan at the same location – http://greenanarchy.anarchyplanet.org/2012/06/05/introduction-by-john-zerzan/
Table of Contents
Welcomes
Welcome to (the best of) Green Anarchy
I Suppose It was Worth a Shot
Introduction
Civilization
So Vast the Prison
What is Green Anarchy – GA Collective
Operation Civilization I & II – Saura Agni
Rising of Barbarians – Wolfi Landstreicher
Locating an Indigenous Anarchy – Aragorn!
Technology
A Dark and Hungry God Arises
Science: Civilization's Ally – Ran Priur
Sermon On The Cybermount – Rev Black Ahole
Towards Something New – Terra Solvagio
Tech & Class Struggle – Wolfi Landstreicher
Godfrey Reggiou Interview
The Left
Anti-Left Anarchy
Nature of the Left
Leftism 101 – Lawrence Jarach
Liberation not Organization – A. Morefus
Ten Blows against Politics – Il Pugnale
The Left-Handed Path of Repression – Crocus Behemoth
Not My Vision of Liberation – Leaf S. Alone
Beyond Utopian Visions – A. Morefus
China's War on Nature – Uncarved Block
Barbarism & Authoritarianism – Jesús Sepúlveda
Ongoing Death March
As the World Burns
Zero War: Total Liberation – Dave Antagonism
To Produce or Not To Produce – Kevin Tucker
Limits of Illusion, Limits of Exhaustion – Dan Todd
A Surrounding for Us to Live Within – A Friend of Ludd
Thoughts on Predator: An Interview With Ward Churchill
Infantile Paralysis – Sky Hiatt
Why I Hate the City – Sal Insime
Resistance
The Age of Obedience is Over
Hit Where It Hurts – Ted Kaczynski
In the Mean time – Primal Rage
Does Not Compute – Austin Train
The Enemy is Quite Visible – Terra Salvagio
Electric Funeral – Havoc Mass
Lights Camera Action – Grievous Amalgam
Revolt of the Savages – Kevin Tucker
Contributing to Momentum against Civilization I & II – Felonious Skunk
Nihilism & Strategy – Aragorn!
Thinking through the Fall – Ran Priur
When I Walk through the Valley – Ann I. Solation
Youth Liberation
Play Fiercely – Wolfi Landstreicher
endgame
Decolonization
A Call for Escape Routes
We are All Indigenous – Homer Bust
Strangers Touching the Void – Sky Hiatt
Why Misery Loves Company – Ron Sakolsky
I am Not a Machine – Mia X.Kursions
Intuition as a Crucial Part of Rewilding – Ardilla
A Question of Spirit – Faith Stealer
Seeds on the Breeze – Scavenger
We Are Not Separate – A.R. Son
Stones Can Speak – Jesús Sepúlveda
Reclaiming the Myth-Time – Scavenger
About Getting Free from the Myth of Revolution – Pablo A
Max & I – (I)Anok
Dust in the Wind – Mysteria
The Error of Correction
Flights Of Fancy
Dreams with Sharp Teeth
Earth's Lament – Everyday Revolution
The Dream – L'argonauta
Diary of a Female Hunter/Gatherer – Army of the 12 Monkeys
When the zombies take over, how long till the electricity fails?
Reclus – Fire
Afterword
Silence – John Zerzan